Authored by Igor Chudov via Igor-Chudov.com,
Oh, how much the times have changed!
The United States Army is now begging COVID unvaccinated soldiers, who underwent involuntary discharge for their refusal to take the vaccine, to return to service and also permits them to correct their military records!
Just two years ago, in a shameful campaign, the Pentagon was gleefully discharging soldiers who refused to take Covid vaccines: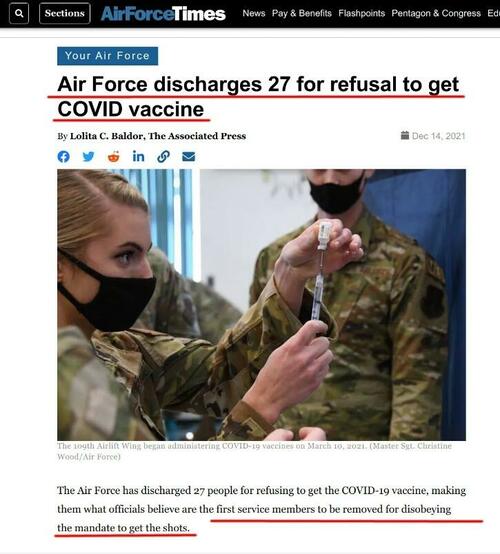 https://www.airforcetimes.com/news/your-air-force/2021/12/14/air-force-…
We were assured that these discharges would "not affect military readiness."
"I can tell you there are no operational impacts across the force for readiness," Marine Corps Lt. Gen. David Ottignon told lawmakers. "There's no one community that has signaled an instance where a [leader], an NCO or another enlisted Marine is not present because of that."

The Marine Corps has, by far, kicked out the most service members: 1,968 total, 20% of whom received an honorable discharge. That amounts to just under 1% of the total force, which stands at about 215,000.
However, the readiness suffered: thousands of service members were dismissed, and potential recruits declined to enlist…
Read the full article here