What's the highest-valued startup in the world? Why, ByteDance – makers of Chinese social media app TikTok, which one might suspect endeavors to drive the collective IQ into double-digits one ADHD-triggering clip at a time, according to the CB Insights unicorn list (the valuation, not the commentary).
In fact, as Katharina Buchholz of Statista further notes, the top 8 highest-valued startups in the world only features one non-U.S. and non-Chinese company, Fintech app and neobank Revolut out of the United Kingdom. As of November 2023, other highly ranked international entries are Australian software company Canva (rank 10) and Indonesian logistics provider J&T Express (rank 13). A quick riser on the list has been Chinese apparel retailer Shein, now valued at $66 billion.
According to CB Insights, there were more than 1,200 unicorn startups (companies valued at $1 billion or more) in the world as of October 2023. Around 40 are decacorns, valued at $10 billion or more, including OpenAI, Discord, Grammarly, JUUL, BYJU's and Reddit. Bytedance and Space X are the world's hectocorns, valued at more than $100 billion.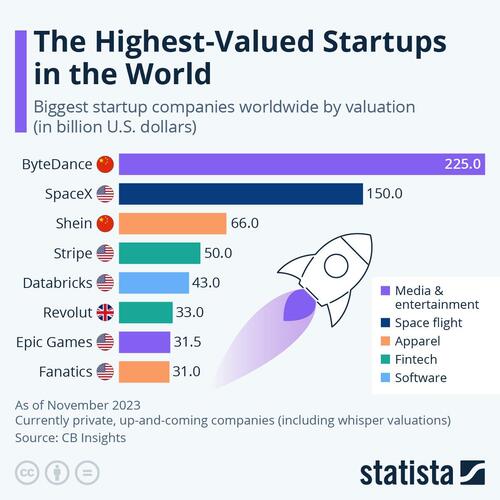 Loading…
Read the full article here